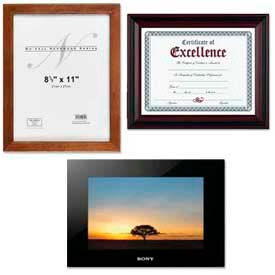 See all 43 items in product family
Frames And Plaques Are Used For A Wide Variety Of Photo or Document Display And Protective Applications.

Frames And Plaques are made of a wide variety of wood, plastic or leatherette materials for long lasting durability and dependability. Wide selection of brands and types available to suit particular need or application. Brands include C-Line®, Dax®, Nu-Dell® and Sparco™ for display and protection of Documents, Photos, Posters, Awards and more. Sizes range from 8-1/2 to 24 inches wide and 7-1/2 to 36 inches in height. Black, Blue, Clear, Gold, Mahogany, Oak, Rosewood and Walnut colors and finishes. Sony® Digital Photo Frame also available.


Click for more