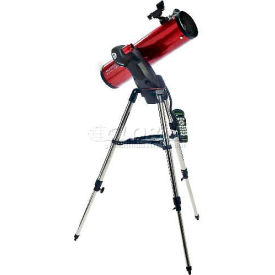 See all 9 items in product family
Celestron Telescopes Have Compact Designs That Allow For Easy Travel.

Celestron Telescopes are perfect for anyone who is interested in astronomy. The FirstScope Telescope is an used entry level, astronomical, Dobsonian style telescope. Features a 76mm aperture reflector optical tube and 15x magnification. A stylish design allows for easy, out in the open storage. A FirstScope Accessory Kit is available to help expand the capabilities of the telescope. The SkyProdigy 130™ Telescope combines electronic motors, an intelligent on-board computer, a digital camera and StarSense™ technology to create an automatic, instant alignment telescope that requires no input from the user. Features 26x magnification. The TravelScope 70 Telescopes are made of high quality materials to ensure stability and long lasting durability. The compact design and limited maintenance encourage travel. Features 20x magnification. The SkyScout Personal Planetarium is a handheld device that uses GPS technology, with point and click convenience, to identify thousands of stars, planets, constellations and more. All telescopes have a 2 Year Limited Warranty.


Click for more
See all 6 items in product family
Celestron Microscopes Are Designed For A Wide Variety Of Applications.

Celestron Microscopes are available in biological, stereo, digital and digital and optical models. The Celestron Advanced Biological Microscopes 500 are intermediate level microscopes with all metal bodies and a monocular head. Coarse and fine focusing knobs add viewing detail. Magnification up to 500x, with 4x, 10x and 40x objective lenses. An electric illuminator provides direct control of light, concentrated and adjusted by the Abbe condenser and the Iris diaphragm. 400x, 1000x and 1500x models available. The first is an entry-level microscope, the second is a heavy duty microscope for outside use and the third has a rotatable binocular head, built-in Halogen illumination and coaxial focus with coarse and fine focus knobs. The Celestron Advanced Stereo Microscopes have 360° rotatable binocular head, inclined at 45° for comfortable viewing. Professional zoom model also available. LCD Digital Microscopes replaces traditional eyepieces with an LCD screen for easy and comfortable viewing. Built-in camera allows for snapshots and short videos that store on an optional SD card. 400x and 600x magnification models available. Deluxe version with up to 1600x magnification, adjustable illumination, dual focusing, universal AC Adapter and a 6-volt battery pack for field use. Celestron Handheld Digital And Optical Microscopes are used for examining coins, stamps, rocks, insects, plants, circuit boards, skin, yeast, mold, bacteria, fibers and more. Battery power allows for easy travel. Up to 2000x magnification. Microscope accessories and kits are also available for purchase. 2 Year Limited Warranty.


Click for more