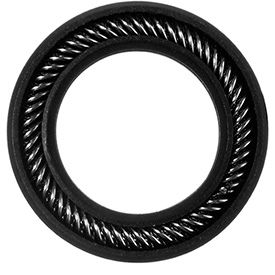 See all 11 items in product family
Graphite Filled PTFE Spring Energized Seals for Linear and Rotary Applications

Spring Energized Seals are made of chemical resistant high temperature PTFE that is supported with a spring to help maintain its shape and sealing force. They are used as alternatives to rotary shaft seals, rod seals, and piston seals, and provide greater sealing power in harsh environments. Graphite filled seals have greater wear resistance and strength compared to seals without a filler. Excellent wear and extrusion resistance in liquids, steam, and other severe conditions.


Click for more