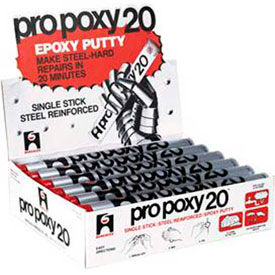 See all 3 items in product family
Hercules Poxy Allows Easy Repairing And Rebuilding Of Plastics, Metals, Glass, Ceramics And More.

Hercules Poxy is available in several varieties to suit specific repair jobs. Sold in case quantities of 24. Pro Poxy™ 20 is perfect for heating, plumbing, and any other home applications where temperatures do not exceed 300°F. Pro Poxy™ 20 is great for metals, masonry, and some plastics, and is safe for use with potable water. Plastic Poxy™ is an epoxy resin and hardener, which can be shaped and molded for certain rigid plastics. Plastic Poxy™ features a fading blue dye that turns off-white when fully mixed, and forms a permanent bond in 40 minutes. Plastic Poxy™ can be used in applications where temperatures do not exceed 250°F. ProPoxy® Triple Play includes Pro Poxy™ 20, Copper Poxy and Plastic Poxy in one package for repairing and rebuilding steel, copper or plastic.


Click for more