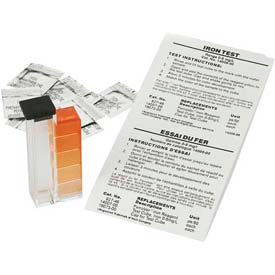 See all 7 items in product family
Hach Water Treatment Testing Kits Come Complete With All Necessary Equipment And Instructions.

Hach Water Treatment Testing Kits are made with iron guard containing a bed of fine mesh ion exchange resin beads and stainless steel bypass for long lasting durability and dependability. Kits provide easy-to-use, cost effective ways to determine quality of water. Multi-parameter test kits for hardness, iron, pH, chlorine, hydrogen sulfide, soap and nitrate. Used for all pH testing, water purification applications, wastewater regulation, aquaculture, hydroponics, colloidal silver, labs and scientific testing, pools and spas, ecology testing, boilers and cooling towers, water treatment, wine, coffee, agriculture and more. Types are Chlorine, Demo Test Kit, Hardness/Iron, Hardness/Iron/PH, Hydrogen Sulfide, Iron, Nitrate, pH Meter, Soap Test Kit and TDS Meter. Dimensions and range for test kits vary per type. Quantity is 1.


Click for more