How to Choose the Right Corrugated Cardboard Boxes
What are Corrugated Boxes?
Corrugated Boxes are made of heavy paper and include an arched layer called "fluting." This arched layer provides corrugated cardboard boxes with a very high strength-to-weight ratio. Corrugated fiberboard (combined board) is made up of two parts. The first part, the linerboard, is the flat facing that adheres to the medium. The second part, the medium, is the wavy, fluted paper between the liners.
Corrugated Cardboard Boxes are sold in case quantities and available in a variety of shapes and styles to protect contents in any shipping, product packaging or storage environment. These boxes are made to disperse product weight evenly and maintain superior stacking strength to prevent collapsing.
What are common Corrugated Board styles?
Single Face:

One medium is glued to one flat sheet of linerboard.

Single Wall:

Medium is between two sheets of linerboard. Also called Double Face.

Double Wall:

Three sheets of linerboard with two mediums in between

Triple Wall:

Four sheets of linerboard with three mediums in between.
How does the flute design protect box contents?
Flutes are anchored to the linerboard and resist bending and pressure from all directions. By placing a piece of combined board on its end, arches form rigid columns able to support many weight capacities. Should pressure be applied to the board side, the space between the flutes forms a cushion protecting box contents. Flutes also serve as an insulator from sudden temperature changes.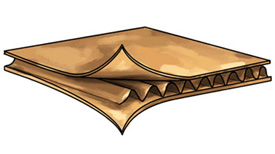 What flute shapes are available?
Flutes come in five basic heights and shapes. The most common shapes are B-Flute (ideal for die-cut boxes) and C-Flute (used for regular slotted cartons). B-flute is compressed and appears thinner. It is made with more paper to provide stronger sidewall protection from blows and punctures. C-flute is taller, with more air space, but offers enhanced stacking strength.





How to choose the Right Corrugated Box
The first step in choosing the right corrugated cardboard boxes is determining the packaging requirements and solutions needed. Determine how the boxes will be used (packaging products, packaging equipment or packaging supplies, price objective, etc.) The second step is selecting the right size. Box sizes are measured by using inner dimensions unless otherwise specified. The size of contents determines the inner box dimensions. Dimensions are based on the opening of an assembled box. Looking at the opening, the longer of the two sides is considered the "length." The shorter of the two sides is the "width." The side perpendicular to the length and width is the "depth" of the box. Last is selecting the appropriate strength box.
ECT is the measure of the edgewise compression strength – the force that a box can withstand while the flutes are vertically oriented. This measures the stacking strength of the box.
The burst strength test measures the ability of a box to withstand pressure from internal or external forces.
Edge Crush Test Guidelines
Maximum Weight of Box and Contents (Pounds)
Maximum Outside Dimensions - Length, Width, and Depth Added (Inches)
Minimum Edge Crush Test (Pounds per Inch Width)
Singlewall Corrugated Fiberboard Boxes
20
40
23
35
50
26
50
60
29
65
75
32
80
85
40
95
95
44
120
105
55
Doublewall Corrugated Fiberboard Boxes
80
85
42
100
95
48
120
105
51
140
110
61
160
115
71
180
120
82
Triplewall Corrugated Fiberboard Boxes
240
110
67
260
115
80
280
120
90
300
125
112
Bursting Strength Guidelines
Maximum Weight of Box and Contents (Pounds)
Maximum Outside Dimensions - Length, Width, and Depth Added (Inches)
Minimum Bursting Test (Pounds per Inch Width)
Singlewall Corrugated Fiberboard Boxes
20
40
125
35
50
150
50
60
175
65
75
200
80
85
250
95
95
275
120
105
350
Doublewall Corrugated Fiberboard Boxes
80
85
200
100
95
275
120
105
350
140
110
400
160
115
500
180
120
600
Triplewall Corrugated Fiberboard Boxes
240
110
700
260
115
900
280
120
1100
300
125
1300
The Various Types of Corrugated Boxes:
Standard Corrugated Cardboard Boxes offer a variety of standard sizes with a rigid cardboard construction to protect contents in any shipping or storage environment.
Corrugated Gaylord & Bulk Boxes are constructed of heavy-duty Kraft to protect and conceal shipments to help ensure safe arrival with easy access for loading and unloading. Serve as ideal master packs for smaller cartons or irregularly shaped items.
Heavy Duty Corrugated Boxes are constructed from strong heavy-duty 275#/ECT-44 Kraft corrugated material in a variety of sizes, shapes, and quantities.
Corrugated Cardboard Rolls & Sheets are made of flexible Kraft corrugated roll paper to confirm to all shapes and sizes as pads/sheets protect pacakges during shipment and other applications. Evenly distribute weight, protect against forklift damage, or insert as a top layer to protect contents from damage when boxes are cut open.
Hazardous Materials Corrugated Boxes feature the mandatory printed warning information for quick and easy hazardous materials identification and providing safe shipment of harmful materials.
Insulated Cardboard Boxes are designed to hold fragile, static, or temperature-sensitive items securely in place during shipping for optimum product protection.
Literature Mailers can be used to ship small fragile items, garments, books, or literature in small or high volume applications. Available in a variety of styles, incudling those that fold together wihtout need for tape, glue, or staples, carrying cases with plastic handles, self-sealing models that feature a peel-off strip, outside-tuck models that won't interfere with contents, and more.
Corrugated Mailing Tubes are available in square and triangle shaped tubes to prevent rolling and provide maximum protection against crushing and bending during shipping. Feature locking tabs to secure contents during shipment.
Moving Boxes are specifically designed to facilitate moving to pack up your home, workspace, art, clothing, fragile items such as mirrors or dishes, or even your laptop. Kits available with foam inserts for extra shock absorption.
Multi-Depth Corrugated Boxes add flexibility and save space by reducing the number of different cartons needed in inventory. Box sides are scored at multiple depths to allow easy height adjustment for a perfect fit.