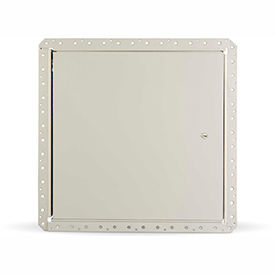 Flush Access Doors For Drywall Surfaces
Flush Access Doors For Drywall Surfaces Provide Convenient Access To Plumbing, Heating, and Other System Components For Residential, Commercial, and Industrial Environments.

These doors feature a textured frame and steel bead allowing joint compound to be applied in sufficient thickness to conceal flange for wall and ceiling applications. The pre-punched flange holes allow convenient framing support with drywall screws. The steel construction is both strong and durable for harsh working conditions. The surround trim is welded to the return frame for added strength and rigidity. Includes a concealed continuous piano hinge for full door access. The latches may be screwdriver or key operated. Powder coat gray enamel finish. Lock types and dimensions vary per model.