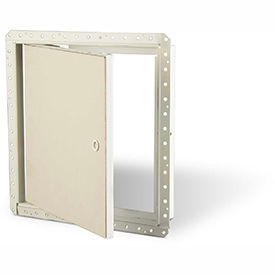 Drywall Recessed Door w/ Factory Installed Drywall
Recessed Access Doors With Factory Installed Drywall Are Used Building Materials Products For Residential, Commercial Or Industrial Building Contractors, Architects, Designers, Engineers And More.

Recessed Access Doors With Factory Installed Drywall are made with solid 14 gauge steel frames and 16 gauge steel doors for long lasting durability and dependability. Face of the door contains factory installed 1/2 inch drywall to match the texture of the surrounding drywall. Door frame includes drywall bead so that drywall cement can be applied to conceal the flange. Used for concealing the access door for aesthetic purposes. Concealed pivoting rod type hinge. Powder coat gray enamel finish. Choose Lock type models that are key operated cylinder lock with automatic dust shutter or Stud Latch type models that are flush and screwdriver operated with stainless steel shafts. Available in 12, 18 and 24 inch widths and 12, 18, 24 and 36 inch heights.