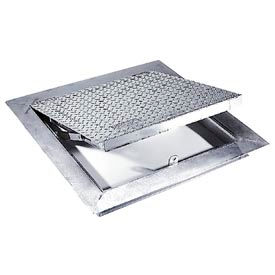 Aluminum Floor Access Doors
Floor Access Doors Are Used For Interior And Exterior Applications Where A Watertight Seal Is Not Required.

Extruded aluminum angle frame includes 1" integral anchor flange to be cast into concrete. Diamond tread plate door offers a slip resistant surface. Includes a flush aluminum drop handle and an automatic hold open arm with red vinyl grip. Stainless steel hinges and hardware. 150 pounds per square foot loading capacity.