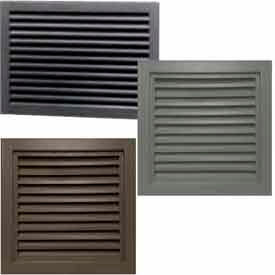 Activar Steel Door Louvers - Inverted "Y" Blade, Self-Attaching & Screw-In Louvers
Steel Door Louver 800A12464B, Inverted "Y" Blades, 50% Free Area, 24" X 64", Bronze

800 Series Louver With Inverted "Y" blades

Inverted "Y" Blades Recommended for Schools, Class "A" and Institutional Buildings with Non-Vision Construction and 4 Mounting Options

Material: 18 gauge CRS frame and 20 gauge blades. Min size 6" x 4 Max 48" x 80".

Construction: Louvers: Inverted "Y" blades with 1" blade spacing are attached by interlocking construction to the 1" deep, welded frame. Non-vision. Multiple sections can be combined for larger sizes. 800A1 Frame: Self-attaching frame with 1-1/4" trim, mitered and welded corners. Screws fasten through frame into louver core, leaving corridor side of frame free of fasteners.