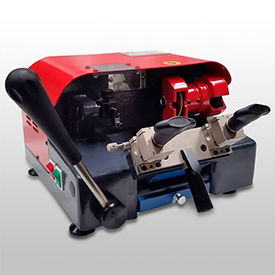 Key Machines
Key Machines are used by Hardware Stores, Mobile Locksmiths, and Small Store Counters to Duplicate Keys.

Key Machines styles include Manual Key Duplicating Machine, Automatic Key Duplicating Machine, Semi-Automatic Key Duplicating Machine, and Heavy Duty Semi-Automatic Key Duplicating Machine. Manual machine operates on 12V. All others operate on 110V. Machines have fully enclosed motor within cast metal housing for light to heavy duty work. Selectable jaws provide ease of use. Mounting kit secures machine to store table or in a vehicle (sold separately). Dimensions vary per style.

Our exclusive Twist-N-Cut knob along with 4-way selectable jaws make duplicating all standard residential, commercial and auto keys a breeze! Available options include choice of voltage (110v or 12v) and an available mounting kit to securely fasten the machine to your store table or in your car or van.