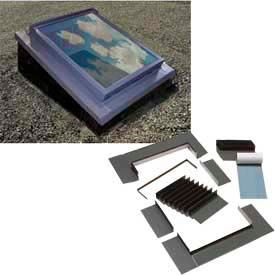 VELUX Flashing Skylights
VELUX® Flashing Systems Are Used For A Wide Variety Of Roof Types And Slopes.

VELUX® Flashing Systems are solidly made for long lasting dependability. Designed to shed water without relying on sealants that can break down over time. Variety of durable aluminum construction flashing systems available to ensure a weathertight fit for virtually all roof types and slopes. Types include High Profile Flashing, Curb High Profile Flashing, Step Flashing, Metal Roof Flashing and Biepack Flashing for use with various VELUX® fixed or venting skylight models. Neutral Gray exterior finishes. Come in a wide selection 2-1/2 to 7-2/3 inch lengths, 9-1/2 to 75-1/2 inch heights and 2-4/5 to 23 inch depths.