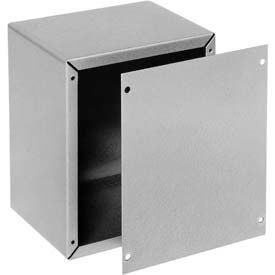 Electrical Enclosure Accessories
Electrical Enclosure Accessories Are Designed For Use As Electrical Junction Boxes Or Instrumentation Enclosures In Highly Corrosive Environments.

Electrical Enclosure Accessories are made of aluminum, non-metallic or steel for long lasting durability. Standard ARIA polyester boxes available in variety of sizes and configurations. Bases made of halogen free self extinguishing fiberglass reinforced polyester. Internal three-point closing system, one-point entry. Includes four threaded studs and bolts for mounting plate or mounting frame installation. Door bosses offer front panel mounts. Easily modified with conventional tools including drills, milling equipments, saws or punches. Suitable as instrument housings in both indoor and outdoor applications. For use in oil refineries, chemical processing plants, waste water treatment facilities, marine installations, electroplating plants, agricultural environments and food or animal processing plants. Some models include windows for easy visual inspection of interior components. Types are Back Plate, Front Plate, Hinged Front Plate, Hinged Front Plate Installed, Hinged Front Plate Kit, Hinged Front Plate Kit Form and Mounting Plate. Outside measurements vary per size. Color is Light Gray.