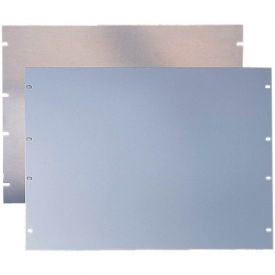 Hoffman Panels and Panel Accessories
Hoffman Panels and Panel Accessories Add Convenient Access and Protection to Electrical Boxes and Enclosures.

These panels and accessories are made from a variety of high quality materials for lasting durability and performance for electrical components. Full Panels, Half Panels, Swing-Out Panels, Rack Panels, Perforated Panels, Composite Panels with UI/NEMA Wall-Mount Enclosures and more listed for mounting inside Type 1, 3R, 4, RX, 12 and 13 enclosures and junction boxes. Panel accessories available for installation include Center Panel Supports, Heavy-Duty Panel Supports, Lifting Hooks with Handles and Wall-Mount Enclosure Kit. Dimensions vary per model.