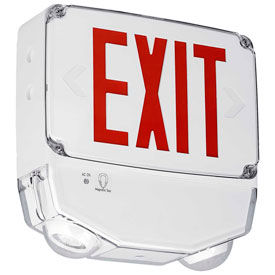 LED Wet Location Combo Exit/Emergency Units
Emergi-Lite BBSVX24N1RD4X2LG NEMA 4X Combination Unit, Self Powered Single Face 12V, 2- 4W LED Heads

This NEMA 4x Combination Unit is designed specifically for high abuse areas, wet locations, and cold weather (-20C°) (-4F°) applications. It is ideally suited for schools, parking garages, public areas, transit platforms and security areas/prisons. Meets or exceeds the requirements of UL 924, NFPA 101, Life Safety Code, N.E.C. and I.C.C. standards.