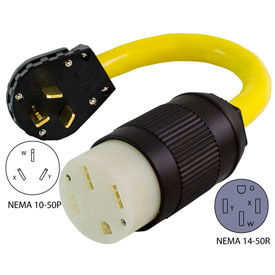 EV Charging Adapter Cords
EV Charging Adapter Cords Provide Re-Charging for your Electric Vehicles.
EV Charging Adapter Cords convert to several NEMA configurations for easy charging during long distance drives. The EV pigtail adapter converts NEMA outlets commonly used for welders to NEMA female connectors for plugging into EV charging systems.
Amperage up to 50A
Voltage up to 250V
Jacket materials is STW
Gauge up to 10/3 AWG
DISCLAIMER: This item is for EV USE ONLY, and must not be used with any other power system. Please label and store with other EVSE charging equipment.