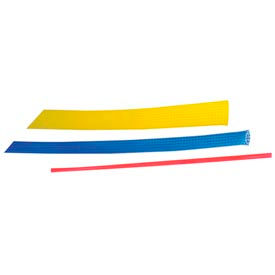 Colored Expandable Loom
Colored Expandable Loom Provides Cable Protection For Automotive, Marine, and Other Applications.
The colored expandable loom is designed to cover outboard motor cables, marine hoses, trailer chains, and harness assemblies for added outdoor protection. The loom design expands up to 2 times the inside diameter size to support various cable dimensions. The polyethylene terephthalate construction is both strong and dependable for lasting reliability. The looms have an operating temperature of -75 degrees making them durable for harsh weather conditions. Available colors are blue, red, and yellow.
Expandable design
Polyethylene construction
Low operating temperature
Inside diameters are 1/4", 1/2", 3/4", and 1-1/4"
Loom lengths are 50', 75', 100', and 200'