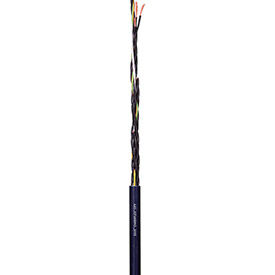 IGUS TPE Control Cables
IGUS TPE Control Cables Are Made For Storage And Retrieval Units For High-Bay Warehouses, Machining Units, Outdoor Cranes, And A Variety Of Other Indoor Or Outdoor Applications.

IGUS TPE Control Cables are TPE Energy Chain® cables that are shielded, oil-resistant, PVC-free and UV-resistant. Cables are made with a highly-flexible bare copper conductors with very fine stranding, high-tensile center core and a TPE-blend outer jacket. CF9 Control Cables allow torsion of +/-90° with 3' cable length. CF10 Control Cables feature an inner jacket and braided copper shield layered below the outer jacket. IGUS TPE Control Cables are available in 300V or 600V maximums. Cable weights, gauges and outer diameters vary per model.