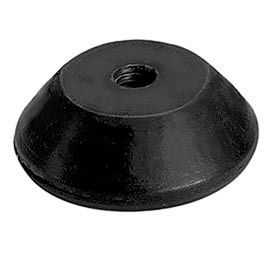 Neoprene Leveling Mounts
Neoprene Leveling Mounts Are Used For Leveling Or Isolating Smaller High-Speed Industrial Machines.

Neoprene Leveling Mounts are made from neoprene to resist oil, oxygen and ozone and for long lasting durability. Upper plate provides uniform mounting loading. Mounts may be bolted directly without leveling for economy. Furnished with holes or studs to accommodate large or small holes in machinery leg. Available without glide cups with friction keeping equipment in place. Available with glide cups able to slide on vinyl floors or short-fiber carpets. Available types are Mount w/Glide Cup and Leveling Stud, Mount w/Leveling Stud, Nut & Washer and Tapped Mount. Size is 2-1/4" L x 2-1/4" W x 7/8" H. Colors are Blue, Green, Red, White and Yellow. Maximum loads are 150 lbs, 250 lbs, 400 lbs, 600 lbs and 1,000 lbs.