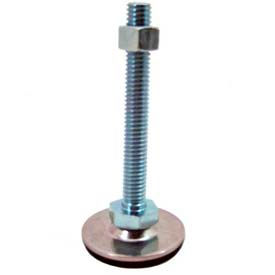 Stainless Steel Leveling Feet
Stainless Steel Leveling Feet Are Designed To Support From 1800 To 3370 Lb. Load Capacities.

Stainless Steel Leveling Feet are made of solid 304 Series Stainless Steel for long lasting durability and dependability. Sturdy round base with threaded stud and hex nut. Stud pivots up to 6°. The static load rating is limited due to the acceptable load rating of the stud. The bending and buckling stress factors often found in the actual application reduce the load rating of the stud and must be compensated for accordingly. To insure proper leveling mount size, divide the machine weight by the number of feet required. This will equal the pounds or load per leveling foot. Choose units With or Without Plastic Caps on base. Dimensions and features vary per model.