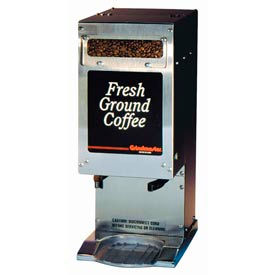 Coffee Grinders And Dispensers
Coffee Grinders And Dispensers Are Used For Restaurants, Grocery Stores, Coffee Bars, Offices, Schools And Other Beverage Service Applications.

Coffee Grinders And Dispensers are solidly manufactured for long lasting durability and dependability. Various recognized brands offer wide selection of grinders used for use in restaurants, schools, offices and for other beverage service and dispensing applications. Types include Weight Driven Grinders, Single Portion Grinders, Dual Hopper Grinders, Triple Hopper Grinders, Bulk Grinders, Low Profile Grinders, Whole Bean Dispensers and more. Available in 1 to 9 lb. capacities and selected Black, Red, Silver or Stainless colors.