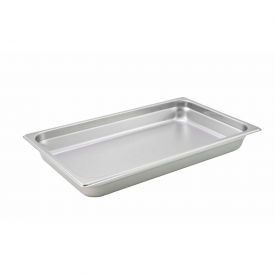 Winco Anti-Jamming Steam Table Pan
Anti-Jamming Steam Table Pans Are Used For Use In Restaurants, Cafés, Cafeterias, Banquet Facilities And Other Foodservice Handling Applications.

Anti-Jamming Steam Table Pans are made of solid stainless steel construction for long lasting durability and dependability. Feature rounded corners for easy food handling and cleaning. Anti-jam design for secure fit and easy lifting. Available in 1/18, 1/3, 1/4, 1/6, 1/9, Half and Full sizes with 2, 2-1/2, 4 and 6 inch depths and various package quantities.