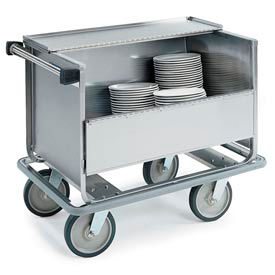 Lakeside® Store 'N' Carry Dish Carts
Lakeside® Store 'N' Carry Dish Carts Are Used For Transport And Storage Of Plates And Bowls Of All Sizes.

Dish carts are made from stainless steel for lasting durability and strength. Easy to clean and sanitize. Open interior ensures no restrictions on size of shape of dishes. Slanted bottom keeps dishes in place. Single Shelf Carts feature a removable hinged top and front panel for easy cleaning and secure transport. 2-Shelf Carts feature an open front slanted shelf and an open lower shelf for added storage space.