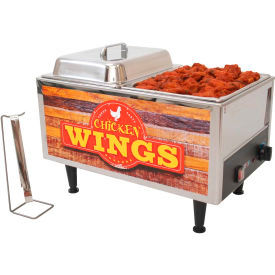 Electric Food Warmers
Electric Food Warmers Are Designed For Catering Sized Quantities In Need of a Sufficient Heating Supply.

Electric food warmers provide hot dining services by generating a consistent heating temperature. Unit thermostat is easy to locate and offers real time temperature controlling options. Dome-shaped lids help prolong sufficient food temperature and accommodate for additional serving space. Recessed pan offers optimal food capacity containment. Trays are removable and allow for easy rearrangement if needed. Stainless steel construction provides lasting durability. Dimensions vary per model.