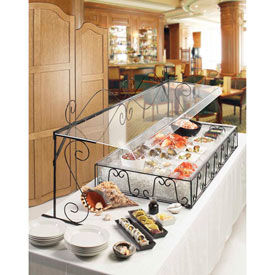 Cal-Mil Sneeze Guards
Cal-Mil Sneeze Guards Offer Simple And Modern Designs For Protecting Foods Against Airborne Contamination.

Cal-Mil Sneeze Guards are durably made with acrylic guards and iron frames for long lasting use and reliability. Guards tear down easily for catering and foodservice applications. Can be used on its own or lined up side by side to accommodate a variety of merchandise. Available guard styles are Iron Large Rectangle, Portable, Small Rectangle, Suspended, Table Mount Double Face Buffet, and Table Mount Single Face Sneeze Guards. Color finishes are Black, Clear, and Silver. Dimensions vary per model.