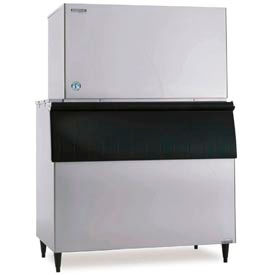 Stackable Crescent Cubers
Stackable Crescent Cubers Can Be Stacked To Provide 24-Hour Ice Production In The Same Floor Space.

Stackable Crescent Cubers are constructed with a corrosion resistant, stainless steel exterior for long lasting durability and easy cleaning. Dual-sided stainless steel evaporator provides oval-shaped copper refrigerant tubing for most efficient heat exchange. Evaporator design freezes purest water, washing most of minerals and impurities down drain to create individual crystal clear crescent cubes. Ice cube machines not affected by caustic water to eliminate plating or flaking. CycleSaver® allows production of same amount of ice in half cycle of other machines. Made with an antimicrobial agent. R-404A refrigerant. CEC compliant. UL listed. NSF approved. Width is 48 in.. Depth is 27-3/8 in.. Heights are 27-3/8 in. and 36-7/16. Color finish is Stainless Steel. Package quantity is 1. 3 Year Limited Warranty.