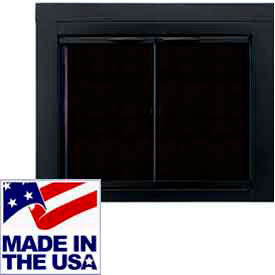 Fireplace Glass Doors
Fireplace Glass Doors Help Reduce Heat Loss And Cool Air Loss Up The Chimney For Year Round Energy Savings.

Fireplace Glass Doors are made with a one piece solid frame welded steel construction and high heat power coat finish for added style and long lasting durability. Surface mount, overlap design includes cabinet doors with easy catch magnets, premium/fine mesh panels and smoked safety tempered glass. Easy to install, fully assembled. Available in a variety of styles. Colors are Antique Brass, Black, Black/Gold, Black/Sunlight Nickel, Burnished Bronze, Gunmetal, Oil Rubbed and Sunlight Nickel. Overall dimensions are 37-1/2 in. L x 30 in. H, 37-1/2 in. L x 33 in. H and 43-1/2 in. L x 33 in. W. Made in USA. 1 Year Limited Warranty.