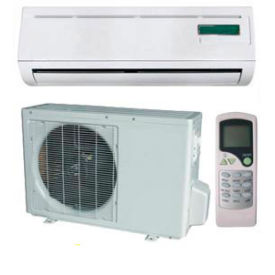 Pridiom® Ductless Split Air Conditioners
Pridiom® Ductless Split Air Conditioners Support Cooling and Heating Environments Including Offices, Hotels, Resorts, and more.
These air conditioners provide high energy efficiencies, as well as low ambient operating temperatures. Inverter heat pump technology adjusts output to maximize comfort while minimizing the energy cost. Units conserve energy by cooling or heating occupied locations. Includes remote control for convenient operation and temperature control. Cooling BTUs are
9,000, 12,000, 18,000 and 24,000.
Heating BTUs range from
9,000 to 28,000.
CFM high, voltage, and SEER vary per model. UL & CSA listed. Must be installed by a licensed contractor. Environmentally-friendly R410A refrigerant.
Protective Covers for Line Sets are Available for Purchase by Clicking the Following Link here