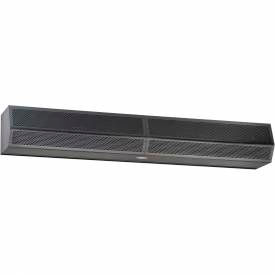 Mars® Electric Heated Standard Series 36"-144"W
Mars® 36"-144" Wide Electric Heated Standard Series Air Curtains Are Used For Warehouses, Industrial Plants, Municipal Buildings, Transportation Terminals, Hospitals, Police and Fire Stations And More. Maximum Installation heights rated for Insect Control is 8' and for Temperature Control is 10'.

Mars Electric Heated Standard Series Air Curtains are solidly manufactured for long lasting dependability. Designed for a wide variety of commercial and industrial applications, these durable units reduce energy and operational costs and consumption while creating effective environmental separation and maintaining interior building temperature. Deter flying insects, minimize dust and fumes and offer unobstructed views, thus enhancing safety conditions. Varia694245le air speeds make it possible to control all types of environments. Low noise levels of 68 to 71 dBA. Easy to install and low maintenance. A wide selection of single-phase motor units are available to fit door widths of 36" to 144". Features Corrosion-resistant, powder-coated finish . Models offered in Obsidian Black standard.For additional color finishes, as well as Steam or water Heated options, please contact Global Industrial Sales Representative. Dimensions vary per model.