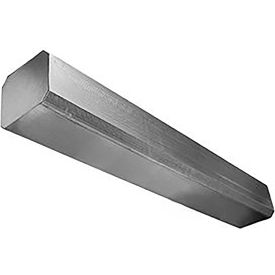 Global Industrial NSF-37 Certified Air Curtains
Global Industrial NSF-37 Certified Air Curtains Are Used For Use Above Restaurant Doors, Kitchen Doors And More.

Global's NSF-37 Certified Air Curtains have a stainless steel construction with corrosion protection for long lasting durability and strength. Designed to stop insects, dust and odors in door openings. Can be installed for interior or exterior use and include a roller/plunger door switch for quick, confident use. The heavy duty direct drive motors are designed for longer life and the motor/blower plate comes as one, easily removable assembly for quick and efficient service. Comes fully assembled and does not require a control panel. Units are prewired to a junction box on the curtain, meaning an electrician only has to bring power to the unit for it to function, which saves time and money on installation. Thorough testing is done in the factory for added safety and the unit is shipped crated and shrink wrapped. NSF International was formerly known as the National Sanitation Foundation. It is a not for profit organization that provides public health and safety safety risk management solutions. Among those solutions, NSF International provides standards development and product certification. Foodservice and restaurant supply products that are certified by NSF undergo and have passed an evaluation to ensure that the product and facility where the product is made meet NSF standards for food safety. NSF standards are generally accepted by government regulatory agencies. Choose from Phase 1 and Phase 3 models for increased versatility. Available with door widths of 36, 42, 48, 60, 72, 84, 96, 108, 120, 132 and 144. Voltages and dimensions vary per model. 2 Year Limited Warranty.