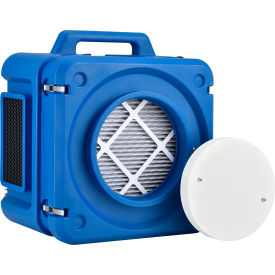 Commercial Air Scrubbers
Commercial Air Scrubbers Filter Out Harmful Organisms, Allergens, Construction Dust And More.
Commercial Air Scrubbers use HEPA air filtration unit for optimum performance. The HEPA filter media has an efficiency rating of 99.97% against 0.3-micron oily aerosol particles.
Commercial Air Scrubbers help restore indoor air quality in Commercial and light industrial settings, universities, schools, hospitality venues and healthcare environments
by removing harmful allergens and mold spores - especially important for allergen-sensitive or immune-compromised areas or occupants.
Additional Ducting is available for sale. Please use the following link here