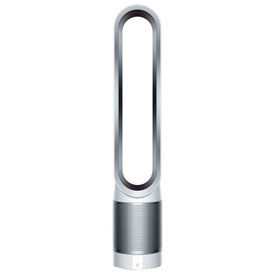 Dyson Pure Cool Link Air Purifier / Fans
Dyson Pure Cool Link Air Purifier / Fans Improve Air Quality, Circulation, and Speed for Applications Including Residential, Commercial, Maintenance, and more.

Dyson Pure Cool Link air purifier / fans are made of plastic for durability and impact resistance. Fans remove 99.97% of allergens, pollutants, and ultrafine particles including pollen, bacteria, and pet dander. Air Multiplier™ technology and oscillating design provide long-range projection and circulation. Voice activated feature supports Amazon Echo for user convenience. Includes remote control with 10 airflow settings. Features an integrated sleep timer for overnight purification. Types are Desk Fan/Purifier and Tower Fan/Purifier. Filter is 360° Glass HEPA EVO filter. CFMs are 707 and 868. Decibels are 63. Asthma & Allergy Friendly/Quiet Mark certified. Dimensions vary per model.