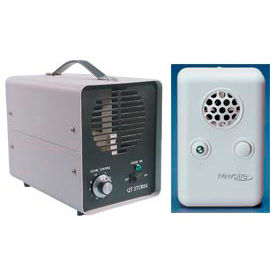 Queenaire Ozone Generators
Queenaire Commercial Grade Ozone Generators Safely Eliminate Smoke, Food, Mildew And Garbage Odors While Reducing Airborne Particles Such As Dust And Mold Spores.

Ozone air purifiers include an anti-microbial filter to reduce bacteria and mold particles in the air. All models; except Plug-in model, offer 120V operation and aluminum housing with a gray powder coat finish. Plug-In Model is made with off-white plastic housing with titanium electrode assembly. 5 Year Limited Warranty.

All ozone generators can run continuously. 607209 is used for hotel rooms, operates silently and includes a 2 Year Limited Warranty. 607211 includes a 7 day programmable timer to run overnight. 607212 and 607213 feature a countdown timer that runs unit for 1/4, 1/2, 2 or 4 hours.