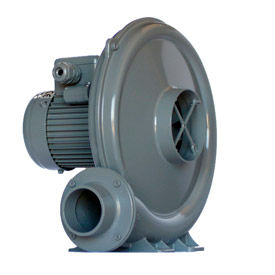 Atlantic Centrifugal Blowers
Atlantic Centrifugal Blowers Supply Clean Oil-Free Air Without Any Contaminants.

Centrifugal Blowers are made with a corrosion resistant cast aluminum alloy construction for long lasting durability. Energy efficient design virtually maintenance free with fewer moving parts reducing wear and tear. Low acoustical noise levels running quieter (between 51-81 db's) compared to traditional blowers. Lightweight, compact size provides built in thermal protectors for overload protection. Double shielded stainless steel sealed bearings and high quality shaft oil Seals are standard between the impeller & bearings for protection against air contamination. Tighter tolerances between impellers and housings increase flow and pressure efficiency. Available in a variety of horsepower's from 0.33 to 5. Phases are 1 and 3. Stages are 1 and 2. Inlet connections are 4 in., 5 in. and 11 in.. Color is Gray. Quantity is 1.