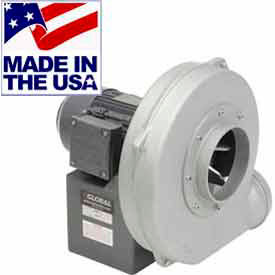 Hazardous Location Blower Explosion Proof
Hazardous Location Blowers Are Explosion Proof And Used For Use In Electronic Applications, Vehicle Fume Exhaust Removal, And More.

Hazardous Location Blowers are made of cast aluminum material for spark resistance and long lasting durability. Construction is also corrosion resistant in outdoor environments. Cast aluminum is 1/3 the weight of carbon steel fans and requires less structural support where mounted. Material also becomes stronger in cold rather and is non-magnetic. Standard discharge position is Upblast. Also available in Top Horizontal, Bottom Horizontal, or Downblast. All sizes are suitable for operation to a maximum of 150 degrees F. Horsepower units range from 1/2 - 15. Provides cooling in UV light curing equipment; high pressure air source for air knife blow-off applications; and is a source of combustion air for gas burners. Dimensions vary per model. Must be installed by a licensed electrical contractor.