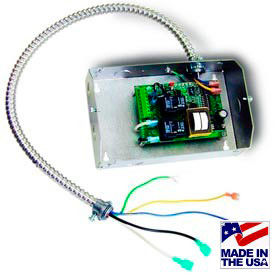 Universal Controls & Accessories
Universal Controls And Accessories Are Used For Heating Applications.

Universal Controls And Accessories are made for long lasting durability and dependability. Tjernlund UC1 Interlock Control can be electrically interlocked with virtually any burner control circuit. Features adjustable pre/post purge timing and LED status/fault lights. Interlocks single 24/120 VAC burner. Multiple Appliance Controls add the ability to interlock 1 or 4 additional heaters to UC1 Interlock Control. Tjernlund Fan Proving Switch works with all In-Line Draft Inducers. Connects with included aluminum tubing to a knock out in the Draft Inducer housing. It connects electrically to the UC1 Interlock Control or directly to the burner circuit.