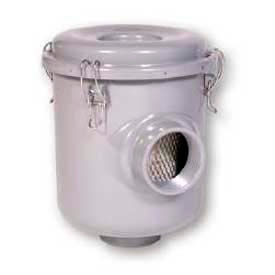 Blower Filters & Canisters
Blower Filters and Canisters Are Designed to Prevent Blower Failure.

Blower filters and canisters are used in conjunction to capture and separate airborne contaminants before reaching the blower. Blowers are constructed from durable Carbon Steel for lasting durability and paper filter media is capable of 2 Micron filtration. Filters should be replaced regularly. Filters and Canisters are sold separately. Available canister and filter types are Vacuum or Pressure. NPT connection sizes are 1-1/4", 1-1/2", 2", 2-1/2" and 4".