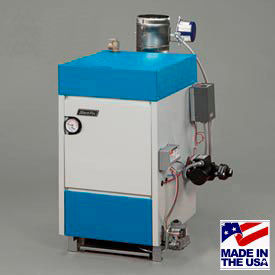 Slant/Fin® Sentry® Gas Boilers
Slant/Fin® Sentry® Gas Boilers Feature A Lower Profile To Make Installation Easy.

These efficient gas boilers save up to 30% or more on fuel bills compared to a typical old boiler operating at 60% efficiency. Used for a wide variety of gas boiler requirements, as a replacement or for new installations. Fits into replacement sites with low chimney breeching or low overhead clearance. Ensures uniform heat transfer with less thermal strain and metal fatigue. Reliable natural draft boiler is made with a cast iron heat exchanger and built-in air separator. Utilizes stainless steel burners, gas orifices and manifold assembly. Metal push nipples expand and contract with the individual boiler section they connect to prevent leaks. AFUE up to 83% efficiency. Low profile boiler with integral draft hood fits sites with clearance as low as 38-1/2. Heavy duty electronic damper packaged maximizes efficiency. Made using an insulated, heavy gauge aluminized steel base with a pressure/temperature gauge and circulator pump. Includes rollout safety switch, drain cock, ASME rate pressure relief valve and pilot adjustment. CSA certified. Tested under US Department of Energy procedures. Must be installed by a licensed contractor. Check local codes and ordinances. Limited Lifetime Warranty.