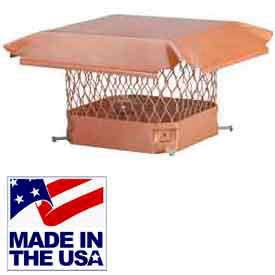 Draft King Copper Chimney Caps
Draft King Copper Chimney Caps Are Used HVAC/R Accessories For Safe, Efficient Ventiliation In Heating Applications.

Draft King Copper Chimney Caps are made of copper for long lasting durability. Outside mounting design provides maximum free air space and better draft. Bolt-on cap features expanded metal mesh turned inward at base to allow cover to rest firmly on flue tile, closing any openings to protect against nuisance wildlife. Features removable hood for easy cleaning. Includes slotted hex-head steel mounting bolts for easy installation. Available with Bolt-On Mount Type. Color is Copper. Includes lifetime limited warranty. Dimensions vary per model.