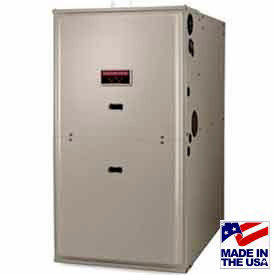 Winchester Gas Furnaces
Winchester Gas Furnaces Are Designed For Installation In Basements, Closets, Attics, Garages, and For Commercial Applications.

Winchester Gas Furnaces are compact and versatile space-saving units that can be installed in select upflow or horizontal applications. Units can be easily converted for downflow applications. Ship natural gas ready and can also be easily converted to use propane gas with optional conversion kit (LP347). All units are factory assembled, wired and tested to assure safe, dependable, and economical operation. Self-diagnostic control modules monitor operation. Choose from a wide selection of units that deliver from 32,000 to 114,000 BTU's. Single-Stage units have tubular aluminized steel heat exchangers for maximum resistance against corrosion and thermal fatigue and are air conditioning ready with an adjustable speed blower motor for maximum comfort. Adjustable-speed, maintenance-free direct drive blowers never need lubrication. May be installed as a single pipe system, using indoor air for combustion, or as a 2-pipe sealed combustion system, bringing in fresh outdoor air for combustion. Energy efficient Two-Stage models utilize two heat exchangers to maximize continuous flow of heated air to eliminate temperature swings while saving energy. Primary heat exchanger is made of tubular aluminized steel, while the secondary is made of stainless steel. Electronic hot surface igniters increase safety and efficiency. Two-stage gas valves. Two-stage inducer operation. Variable-speed ECM blower operation. Multi-positional units are ideal for universal airflow configuration and accept downflow, upflow, and horizontal applications. CFM ranges from 800 to 2000. Select models come with standard 5-Year Limited Parts Warranty. Dimensions vary per model.