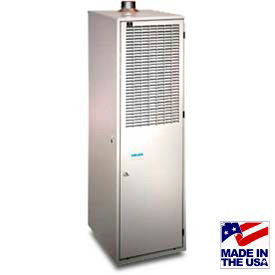 Miller® CMF Series Mobile Home Furnace
Miller® CMF Series Furnaces Are Used For Manufactured Homes Recreational Vehicles, Park Models, Manufactured Buildings Modular Homes and Buildings in Tight Replacement Space.

Miller® CMF Series Mobile Home Furnaces are made of steel for long lasting durability and dependability. CMF Series incorporates multi-speed blower and multifired burner. Multi-application fossil fuel heating appliance offers three-speed, custom fit and painted blower configuration for efficient, quiet operation at all firing rates. Titanium kilned process technology used in heat exchanger steel for extended life and durability. Re-sized auxiliary limit switch allows for reliable cycling. Oil or liquid propane/natural gas fuel types available. Input BTUs are 45,000, 72,000 and 80,000. Output BTUs are 42,750 and 64000, 68,400. Dimensions, fuel types and approvals vary per model. Must be installed by a licensed contractor. 1 Year Limited Warranty.