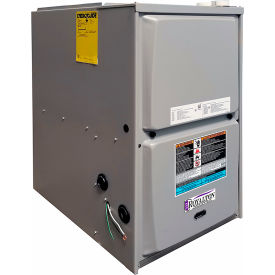 Royalton Gas Furnace
Royalton Gas Furnaces Are Designed For Commercial Areas In Need of Gas Furnace Heat.

Royalton gas furnaces supply heat for residential and commercial applications. Most models feature a 33" tall cabinet. Built-in, high level self-diagnostics with fault code displays standard on integrated control module for reliable operation and simple troubleshooting. Select models feature 2-stage heating operation. Heat exchanger is constructed of tubular aluminized steel with crimped non-welded construction. Units are not certified for mobile home operation. Equipment recommended to be sized, selected, and installed by a qualified professional to ensure proper installation. The 5 speed ECM motor reduces electrical power usage while improving the A/C SEER rating. BTU Output ranges from 35,200 to 106,000. Dimensions and additional specifications vary per model.