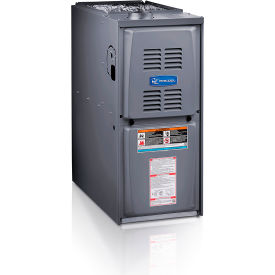 MRCOOL® Gas Furnaces
MRCOOL® Signature Series 80% AFUE and 95% AFUE Single Stage Gas Furnace. Compact, easily maintained, affordable gas heating solution.

Configurations for Upflow, Horizontal and Downflow. Aluminized steel heat exchanger tapered crimped non-welded clam shell for smooth ignition. Easy removable slide out blower design. Enhanced cooling SEER ratings when applied with properly matched cooling equipment. Compact 33" height cabinet design and standardized widths for easy coil fit. Delivery system controls, single stage gas valve, durable silicon nitride ignitor and self-diagnostics saving previous fault codes regardless of power interruption. Control features electronic air cleaner and humidifier terminals. Draft inducer can be rotated for venting flexibility. Left or right utility connections. Removable floor base for bottom return air upflow and horizontal units. Zero step horizontal conversion Limited 10-Year warranty when units are installed by a HVAC technician. Optional conversion kit is required for use in propane LP gas applications and must be ordered separate.