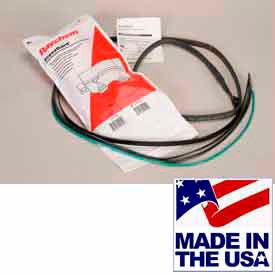 Raychem® Freezgard® Crankcase Heaters
FreezGard Crankcase Heaters Increase Compressor Efficiency And Prolong Motor Life.

FreezGard Crankcase Heaters are used for refrigeration compressors. Designed to provide reliable peak heating during critical cold periods. Reduces heating when compressor starts or when temperature rises to help save energy. Heaters are self-regulating and prevent compressor motor wear. Includes flexible lock strap and pre-stripped 28" cold leads for installation and hardwiring. Use only in non-hazardous areas. Available in 120V and 240V. 2 Year Limited Warranty.