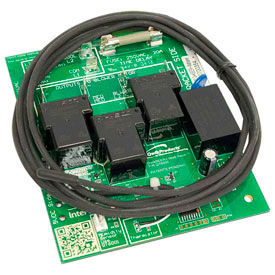 Air Conditioning Controls
Air Conditioning Controls Work with Existing HVAC System Hardware to Maximize Performance and Reduce Maintenance.

Air Conditioning Controls are built with high quality components for long lasting durability and reliable performance. Controls automatically adjust air flow or blower speed every time HVAC unit cycles on to improve performance. Plug and play design is fully compatible with existing system for quick installation. Models include X1 Universal Constant Torque ECM Replacement Board, V3 Universal Variable Airflow ECM Replacement Board, PSC Energy and Humidity Control Board, and Universal ECM Constant Torque Motor Replacement. Specifications vary per model.