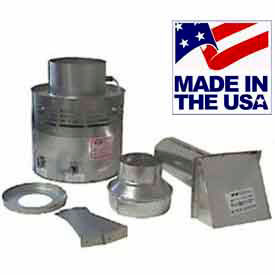 Combustion Air Systems
Field Controls Combustion Air Systems Are Designed For Use With Residential Or Commercial Oil Or Gas Heating Systems.
Field Controls Combustion Air Systems are solidly manufactured for long lasting durability. Features a
CAS designed to send a signal to the appliance that allows the burner to fire for greater reliability
. Diffuses the outside air into the room near the burner to ensure adequate air for efficient operation. Types are
Oil, Gas or Gas/Oil
. Dimensions and BTU capacities vary per model.
Fan-In-A-Can Units
include a proving device in order to engage burner for added safety and protection. Equipped with a two-speed control for enhanced versatility.
Fan-In-A-Drum Units
offer a dual volt unit for oil or gas applications for enhanced versatility.
Click to View
Draft Inducers
Click To View
Power Venters
Click To View
Power Venter Contol Kits