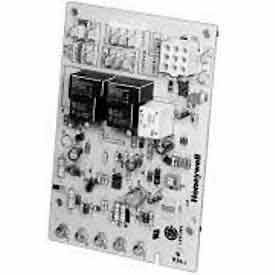 Electronic Fan Timers
Electronic Fan Timers Are Used For Integrated Control Of All Burner And Circulator Fan Operations In Oil Furnaces.

Electronic Fan Timers are made of carbon steel for long lasting durability. Control provides central wiring point for most electrical components in furnace. Monitors thermostat for heat, cool and fan demand. Runs oil burner primary control and up to two-speed circulating fans, as required. Monitors limit switch string, which energizes circulating fan whenever limit switch opens. Replace all existing Honeywell ST9120, ST9101, ST9141 and ST9160 models with the Universal Electronic Fan Timer. Integrates control of all combustion blower and circulating fan operations in gas warm air appliance. Replaceable fuse and DIP switch with selectable heat and cool delay for added flexibility. Diagnostic LED and continuous EAC and HUM terminal connections. Types are Electronic Fan Timer and Universal Electronic Fan Timer.