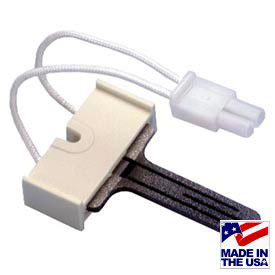 Robertshaw® Hot Surface Furnace Ignitors
Robertshaw® Hot Surface Furnace Ignitors Provide Dependable Ignition In Virtually Any Heating System Imaginable.

Designed to reach ignition temperature within 17 seconds. Ignitors are made from Crystar™, a high-purity recrystallized silicon carbide providing stable electrical properties and great physical and thermal strength. Ignitors have 18-gauge nickel chrome lead wires embedded and metalized in place for holding strength and electrical conductivity. High-temperature fiberglass insulation provides wires with total electrical protection. 120 V.