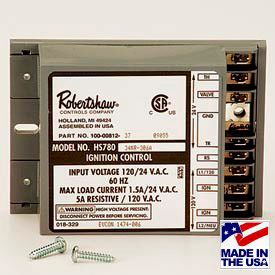 Robertshaw® Hot Surface Ignition Modules
Robertshaw® Hot Surface Ignition Modules Are Used For Use On Gas Fired Heating Systems.

Acts on a demand for heat by a switch or thermostat to supply power to the ignition control. Ignition module provides lockout and complete gas shut off if ignition is not proven after the trial for ignition sequences has been completed. To reset the system, the thermostat or system switch must be opened for 10 seconds. Features molded-in terminal barriers between terminals. Mounting screw provides a positive ground connection. Small compact size for no-hassle installation.