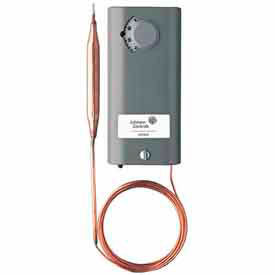 Mechanical Temperature Controllers
Mechanical Temperature Controllers Are Used In a Variety of Industrial, Commercial, and HVAC Environments.

Mechanical temperature controllers are made of high quality materials for durability and corrosion resistance. Units provide temperature control and limits for heating and cooling system applications. Remote bulb and coiled and direct immersion controls regulate air or liquid temperature for ducts, pipes, tanks, and more. Liquid-filled copper elements provide rapid sensing for compressor system control. Set point control allows convenient temperature adjustability for user ease. Capillary lengths range from 1 to 20'. Switch actions are Analog, Main: Open Low - Aux: Close High, SPDT, 2-SPDT, 4-SPDT, SPST, SPST - Open Low, SPST - Open High, and more. Stages are Single, 2, and 4. Voltage ranges from 30/24 to 600/240/208/120/24. Temperature ranges from -30 to 50°F to 200 to 550°F. UL listed. Dimensions vary per model.